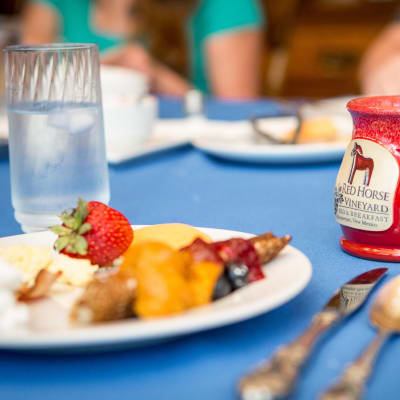 Breakfast At Red Horse Vineyards B&B
Red Horse's meals are focused on providing you with traditional and wholesome foods while remaining within your dietary requirements. Every morsel is made to be spectacular. Breakfast at the B&B
Our breakfasts focus on wholesome, fresh food served family style in our historic dining room.
When possible, ingredients are farm-to-table with many coming straight out of our gardens and orchards. Extra care and time are given to dietary preferences and giving priority to individual guest dietary needs.
Some of the favorite breakfasts at Red Horse Vineyard B & B are almond cream cheese filled crepes with peach schnapps compote, strawberry & cream scones, farm-style eggs benedict, baked custard-style french toast, New Mexico Rellano Egg bake, family friendly blueberry pancakes, and old-fashioned biscuits & bacon gravy.
Breakfast is served at 8:30 am with a continental option with advance notice needed available starting at 6:00 am. During Balloon Fiesta, a 4:30 am To-Go breakfast is available self-serve.